In order to support the utility companies of the West Herzegovina County for more efficient waste management, storage and transport, four large containers were handed over to the CITY today, donated within the project "YOUth drive", funded by the European Union.
The containers were taken over by representatives of municipal and city utility companies, who expressed their gratitude for the donated equipment that will make it easier for them to operate in the field. According to the agreement, the containers will be placed in the most endangered locations, which also pose the greatest danger to the environment and the community.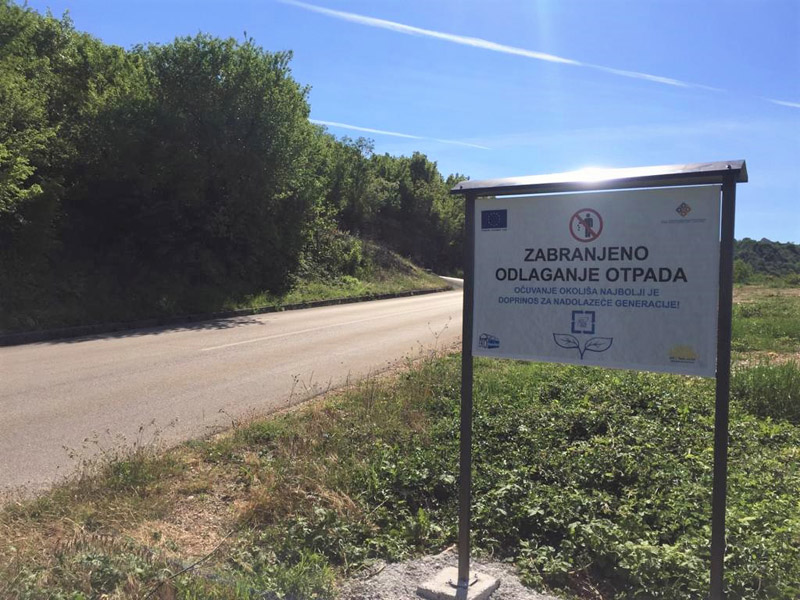 Thanks to the project, the installation of warning boards for "Prohibited waste disposal" has begun, in order to raise the awareness of each individual and protect the environment of the West Herzegovina County. The boards are placed at a total of 10 locations, the most endangered due to waste disposal in places that are not intended for that.
Quality cooperation of all relevant stakeholders from the environmental sector creates a solid foundation that contributes to the strengthening of the sector itself, which will ultimately result in better care for the environment. Therefore, activities like these will be of great importance on the way to achieving the set goals of the project, and ultimately the goals of local communities of the West Herzegovina County in terms of environmental protection.
Such and similar projects, with the support of the European Union, make a big step towards strengthening and linking all sectors in order to quality and concrete action in environmental protection, and create a new space for joint action and contribution to sustainable development of the County. The project also conducted an analysis of the state of watercourses in the West Herzegovina County, which was included in a set of recommendations for legislators in order to strengthen environmental policies and adopt concrete and quality measures.
On the official website of the YOUth drive project "Our Nature", (https://nasapriroda.com), the local community and individuals are enabled to follow all the news related to the project, as well as to be actively involved in solving environmental problems.
In order to raise awareness among young people about proper waste management and environmental protection in the cross-border area of ​​Montenegro and BiH (West Herzegovina County and Bay of Kotor), the project "YOUth drive" with over 230,000 euros is funded by the European Union and implemented by project partners, NGOs "Association for Development, Environment and Culture EKO ZH" from Siroki Brijeg (BiH) as the project holder, and "Our Action", based in Kotor (CG).